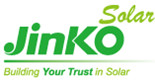 JinkoSolar Holding today announced that it will supply 49MW of solar modules to China Resources Power Investment Company Limited ("China Resources Power") for three solar PV plants.
JinkoSolar will provide solar modules for three of their solar PV projects totaling 49MW.
"We are delighted to cooperate with China Resources Power by providing modules to their PV projects totaling 49MW. As one of China's leading integrated energy companies, China Resources Power is very active in the nation's energy structural adjustments and is focused on the development of green PV power plants. We both share a common goal of working to promote green new energy." Mr. Xiande Li, Chairman of JinkoSolar, commented, "China's PV market has experienced rapid growth in recent years: in 2015, China topped the world in cumulative installed capacity, and during the new Five-Year Plan, China's PV market will continue to maintain the strong momentum. Given these favorable conditions, JinkoSolar will continue to improve its overall technological strength and core competitiveness, as well as work closely with reputable domestic power development companies to maintain our leading position in Chinese market."