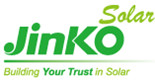 JinkoSolar Holding Co., Ltd. today announced that it has supplied DST Enerji Elektrik Uretim A.S ("DST Enerji ") with 7MW of PV solar modules in Turkey.
This plant is located in the Konya province, which is at the central Anatolian region of Turkey, within a land area of 137.000 m2. The contract has been signed with the investor GNCR Holding, in March 2015. Following design, project approval and land development periods, DST Enerji started site work in September 2015. The company has chosen the JKM260PP poly crystalline modules from JinkoSolar for its important first project.
After an intensive site works period, the temporary acceptance with TEDAS (Turkish Electricity Distribution Company Inc.) was signed in early March 2016, and the plant got into commercial operation.
"We have added our engineering during construction of this plant to minimize shadowing losses, cabling losses, transformer losses, and mismatch losses. String planning and seasonal tilt angle adjustment steel structure were also applied." Mr. Takunyaci explained and added "The Energy yield results of the first month shows that Ortakonak-1 solar power plant will become one of the most efficient solar power plants in Turkey. I would like to thank my team, the investor and to our solution providers for their contributions to this wonderful project".
Arda Kristaporyan, Country Manager Turkey at JinkoSolar commented: "We are very proud of becoming a partner of DST and developing such unique projects in terms of design, engineering and construction. Our flexibility, reliability and technical strength matched well with their requirements for a module supplier which enable us to have sustainable and exceptional partnership for the future. We are extremely pleased to see outstanding field performance of our partners using our PID Free modules which link us stronger with our partners and maintain our leading position in the market."