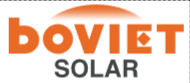 Sunworks, Inc. announced today that its proprietary solar racking division, Rapid Rack, has been chosen as the preferred racking solution for Boviet Solar USA.
"The Rapid Rack mounting system is a perfect solution to complement our high efficiency solar modules," said Eric Ma, President & Managing Director of Boviet Solar USA. "When it comes to increasing the production of your solar system, it is important that you not only have the best panels, but you also have the best racking for those modules. Together, Rapid Rack and Boviet Solar USA achieve optimum results, speed and performance."
"Rapid Rack and Boviet Solar USA have already collaborated on over 1.5 Megawatts in purchase orders, and we anticipate that this number will, at the very least, triple in the third quarter of 2016," Lopez continued.
Extending the relationship between Sunworks and Boviet USA, Sunworks will provide Rapid Rack on two upcoming Boviet projects located in North Carolina. These projects will total approximately 9.5MW.
"At Sunworks, we are always committed to providing the best solution for our customers. It is outstanding to see three premium solar companies working together in order to provide the consumer the best solar solution on the planet," said Jim Nelson, CEO of Sunworks.