Overview:
- Applied delivers record EPS of $0.46 and record non-GAAP EPS of $0.50 in its third quarter
- Generates $3.66 billion in new orders and reports $4.95 billion in backlog, both all-time highs
- Expects record non-GAAP EPS in its fourth quarter
Applied Materials, Inc. today reported results for its third quarter ended July 31, 2016.
New orders were $3.66 billion, up 6 percent sequentially and up 26 percent year over year. Backlog of $4.95 billion was up 19 percent sequentially and up 60 percent year over year. Net sales of $2.82 billion were up 15 percent sequentially and up 13 percent year over year.
The company recorded gross margin of 42.3 percent, operating margin of 21.1 percent, and net income of $505 million or $0.46 per diluted share. On a non-GAAP adjusted basis, the company reported third quarter gross margin of 43.7 percent, operating margin of 22.8 percent, and net income of $550 million or $0.50 per diluted share.
The company generated $981 million in cash from operations, paid dividends of $108 million and used $196 million to repurchase 9 million shares of common stock at an average price of $21.88.
"With earnings and orders at an all-time high, Applied is performing better than ever and in a great position to sustainably outperform our markets," said Gary Dickerson, president and CEO. "We are in the early stages of large, multi-year industry inflections that are driving our business today and creating new opportunities for future growth."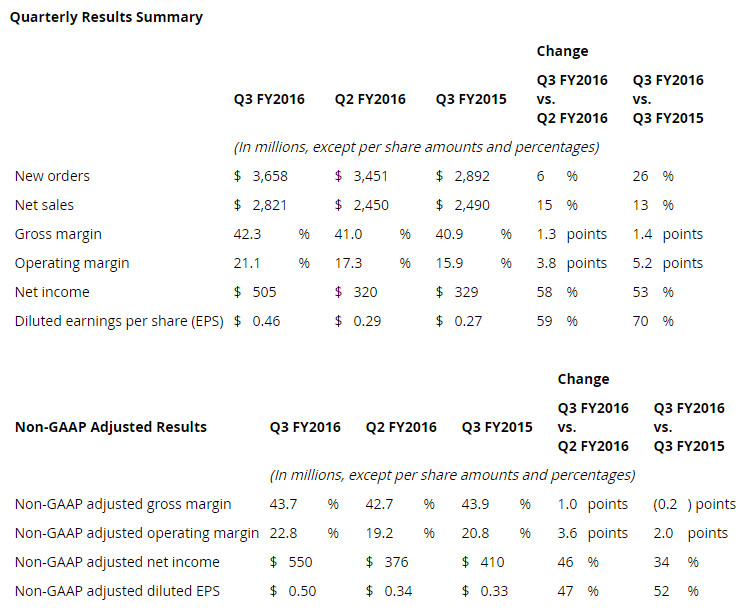 Business Outlook
In the fourth quarter of fiscal 2016, Applied expects net sales to be up 15 percent to 19 percent sequentially. Non-GAAP adjusted diluted EPS is expected to be in the range of $0.61 to $0.69.
This outlook for non-GAAP adjusted diluted EPS excludes known charges related to completed acquisitions of $0.04 per share and any additional charges related to completed or future acquisitions or other non-operational or unusual items that are unknown at this time, as well as other tax related items, which we are not able to predict without unreasonable efforts due to their inherent uncertainty.
Third Quarter Reportable Segment Information
Effective in the third quarter of fiscal 2016, Applied has expanded its Display segment to now include roll-to-roll web coating systems (previously in Energy and Environmental Solutions) and display upgrade equipment (previously in Applied Global Services). The Display segment is now named Display and Adjacent Markets. Applied no longer reports Energy and Environmental Solutions as a segment and its solar business is now included in Corporate and Other. The Silicon Systems segment is now named Semiconductor Systems and is otherwise unchanged. Applied Global Services continues to include 200-millimeter semiconductor equipment sales. Segment operating results for previous periods have been recast to conform to the current presentation in the table below and in the supplemental historical information accompanying this release.
Backlog Information
Applied's backlog increased 19 percent to $4.95 billion and included negative adjustments of $56 million, primarily consisting of order cancellations, partially offset by favorable foreign currency impacts. Backlog composition by reportable segment was as follows: