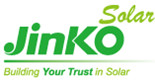 JinkoSolar Holding Co., Ltd. today announced that JinkoSolar Japan K.K. has upsized a two-year JPY5.3 billion syndicated loan signed in June 2018 to JPY6.7 billion during its annual review in June 2019.
The upsized syndicated loan agreement was signed with a bank consortium led by Sumitomo Mitsui Banking Corporation. The financing will be used to expand JinkoSolar Japan's business and to supplement working capital.
"Upsizing our syndicated loan agreement is a vote of confidence by the bank consortium in our future business prospects and long-term growth trajectory, as well as the recognition of Jinko's financial health and operation compliance" commented Mr. Charlie Cao, JinkoSolar's Chief Financial Officer. "We will continue to strengthen our brand recognition and operations in Japan to benefit from a rapidly growing market and look forward to further deepening our relationship with SMBC and other local banks to drive growth."