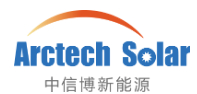 Arctech Solar announced that it has sold over 1GW of fixed structures and solar trackers to 12 utility-scale power plants in Vietnam in the past year, and all of these PV plants were connected to the grid before 30th June 2019 in accordance with Vietnam's solar Feed-in-Tariff program.
"Arctech Solar's strong technical strength, excellent pre-sales and after-sales service are very impressive," exclaimed Nguyen Tam Tien, CEO of Trungnam Group, " Especially when we encountered many unexpected technical difficulties, Arctech Solar made a great effort on implementation of this landmark solar project successfully in Vietnam."
Commenting on one of these deals, 52MW solar power plant in Daklak province, President of Project Investment and Operating from Long Thanh DakLak Investment JSC said: "Due to its strong production capacity, Arctech delivered a hug number of solar products accurately and punctually in the very short term, which enabled efficient installation of this project. We firmly believe that Arctech Solar is a highly reliable partner who ensures this projects' success, and we hope to continue working with them in the years to come."
"We are appreciative to be partnering on over 1GW of solar power plants with many of Vietnam's leading renewable energy firms," stated Mr. Guy Rong, President of Arctech Solar's international business. "Also, I am proud of the significant achievement we have made in this market by leveraging our internal resources and innovating with our customers. We look forward to playing a positive role in support of Vietnam's rapid development of renewable energy and continuing our involvement with global investors."