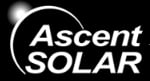 Oct. 28, 2013 - Ascent Solar Technologies announced today certain preliminary financial results for the Company's third quarter ended September 30, 2013.
Based upon preliminary data, the Company expects to post third quarter revenue of $275,000, an increase of approximately 22% over second quarter. More significantly, sales of its EnerPlex™ branded consumer products more than doubled quarter over quarter to $238,000. Q3 Government R&D contract revenue declined more than 85% in large part due to delay in government funding. The company signed a contract with the Department of Defense in June and expects contract revenues in Q4 to be greater than they were in Q2.
Victor Lee, President & CEO of Ascent Solar said, "We believe the momentum in our EnerPlex product sales quarter over quarter validates our strategy of shifting towards a B2C business model, implemented nearly a year ago. We continue to experience increasing recognition of the EnerPlex brand and our sales distribution channels have continued to expand both domestically and internationally, which has contributed to the sales growth in the third quarter, and an even a stronger outlook for sales in the fourth quarter."