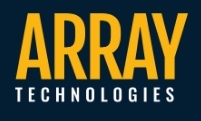 Oct. 11, 2013 - Array Technologies has completed shipping the DuraTrack™ HZ solar tracking system to a 265MW/dc solar project near Calexico, CA, delivering over 1,300 trucks without complication.
Using a new design specifically engineered for frameless thin-film module applications, Array Technologies' patent-pending bowed tracker racks provide stability and support for these unique modules. The bow-truss solution allows for a reduction in unnecessary material and labor, and increases installation speeds, critical for this thin-film project.
The durable DuraTrack™ HZ tracker is designed to minimize materials and maximize the return on investment, while delivering reliable performance day-in and day-out.