July 31, 2014 - SunPower Corp. today announced financial results for its fiscal 2014 second quarter.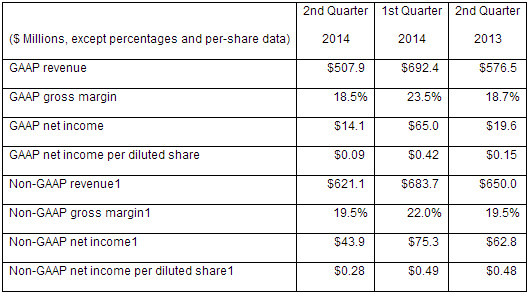 "SunPower's second-quarter financial performance reflected solid execution as well as strong demand for our industry leading, high efficiency solar systems across all channels and geographic segments. By leveraging our vertically integrated value chain from upstream to customer, we are competitive with traditional generation in many markets," said Tom Werner, SunPower president and CEO. "We are continuing to reduce our costs and with the ramp of our next generation technology and processes in Fab 4 starting in early 2015, we will further expand our cell efficiency leadership, lower manufacturing costs and increase capacity to meet the robust demand for our solutions.
"Regionally, our North America business continued to be a key driver of SunPower's performance. Construction of the 579MW ac Solar Star Projects for MidAmerican Solar is proceeding with more than one million panels installed to date, and 228MW are connected to the grid. We also added to our power plant bookings and potential assets for our holdco strategy during the quarter, as we signed an agreement with Xcel Energy for a 60MW project while expanding our public sector business with a 19MW project at Nellis Air Force Base, our second project at this location. Demand for our high efficiency solutions in the commercial business remains strong; we added a number of new and repeat customers to our backlog during the quarter. We also saw significant strength in our residential lease and cash business as customers continue to choose SunPower for our high quality, superior performance and flexible financing options. With our recently announced $200 million solar loan funding agreement with Admirals Bank and available lease capacity through our Google and Bank of America agreements, we have sufficient committed finance capacity to grow our residential business.
"Our EMEA distributed generation business performed well. Pricing is stable and demand for our products, including our next generation SunPower® X-Series Solar Panels with efficiencies of 21.5 percent, remains robust. We also connected 33MW of power plant projects to the grid in South Africa during the quarter. With a strong backlog and a favorable pricing trend expected for the balance of the year, we are confident in our ability to meet our 2014 goals in EMEA.
"Demand in Asia Pacific remained strong and we recorded our best revenue quarter in this region to date. Japan remains a key market for us and accounted for more than 26 percent of our shipments in the second quarter. In China, we shipped 15MW of our SunPower® C7 Tracker cell packages in the second quarter against our recent 70MW cell order announced last quarter. Additionally, we are expanding our joint venture relationship with the TZ Group to other regions in China.
"With our vertically integrated strategy, more than 8GW pipeline and industry leading technology, we are well-positioned to capitalize on the further development of the global solar market," concluded Werner.
"We met our revenue and profit goals for the quarter as we saw strong demand in all of our key markets," said Chuck Boynton, SunPower CFO. "Additionally, we strengthened our balance sheet during the quarter by retiring our 4.75 percent convertible bonds and successfully closing our $400 million, seven- year 0.875 percent convertible offering. The result of these transactions is that we now have $1 billion in cash on the balance sheet, giving us the financial flexibility to support our holdco strategy and build Fab 4. In addition, we continued to monetize our assets to drive cash flow, recently closing our second financing with Hannon Armstrong. This financing gives us additional flexibility through a non-recourse debt structure that minimizes interest rate risk and maximizes the value of our existing lease assets. Finally, we continue to add projects to our backlog and pipeline for inclusion in our holdco strategy with potential assets now totaling more than 600MW."
Second-quarter fiscal 2014 non-GAAP results include net adjustments that increase net income by $29.8 million, including a $22.6 million gross margin adjustment related to the timing of revenue recognition from utility and power plant projects, $13.3 million in stock-based compensation expense, $5.3 million in non-cash interest expense, ($0.6) million of other adjustments and ($10.8) million in tax effect.
Third Quarter and Fiscal Year 2014 Financial Outlook
The company's third quarter 2014 consolidated non-GAAP guidance is as follows: revenue of $600 million to $650 million, gross margin of 17 percent to 19 percent, net income per diluted share of $0.15 to $0.35 and megawatts recognized in the range of 325 megawatts to 360 megawatts. On a GAAP basis, the company expects revenue of $575 million to $625 million, gross margin of 18 percent to 20 percent and net income per diluted share of $0.00 to $0.20.
For fiscal year 2014, the company's expectations are unchanged and are as follows: non-GAAP revenue of $2.50 billion to $2.65 billion, gross margin of 19 percent to 21 percent, net income per diluted share of $1.10 to $1.40, capital expenditures of $150 million to $170 million and gigawatts recognized in the range of 1.225GW to 1.3GW. On a GAAP basis, the company expects revenue of $2.55 billion to $2.70 billion, gross margin of 20 percent to 22 percent and net income per diluted share of $0.75 to $1.05.