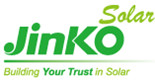 August 22, 2014 - JinkoSolar Holding Co., Ltd. today announced that JinkoSolar Power has signed project investment agreements with the local government of Hengfeng county in Jiangxi Province to develop totally 100MW PV projects. Jinko Power will own the projects and will manage the project investment and EPC as well as operations and maintenance.
According to the terms of the agreement, Jinko Power will invest approximately RMB 800 million for the projects, and the project will receive subsidies of RMB1.2 per kWh. Construction has begun in the third quarter and is expected to complete in the fourth quarter of this year. After the completion, those projects will generate around 110 million kWh electricity annually, generating approximately RMB132 million revenue per year.
"Our power plant development has traditionally been in northwestern China but is now gradually moving towards China's southern and eastern coasts resulting in a more balanced geographic mix," commented Mr. Xiande Li, Chairman of JinkoSolar. "By diversifying the geographic mix of our downstream business, we are working to maintain our leading position in the industry. Each year, the development of projects in western China is impacted by the region's severe cold winter. Weather in China's East and South however, is much more moderate by comparison. By continuously enhancing our cooperation with local governments, as well as our excellent development capabilities, JinkoSolar has built an extensive project pipeline. Our strong financial position and technological know-how will allow us to construct projects all year round. With these agreements, we will provide clean energy, create local job opportunities, improve the environment, and contribute to local economic development."