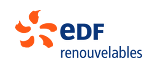 EDF Renewable Energy today announced that Dominion will acquire two solar projects for a total of 57MW: Cottonwood Solar (32.6MW) and Catalina Solar 2 (24.3MW). The sale agreement is subject to customary conditions precedent; it will close upon completion of installation, after which EDF RE will manage the commissioning and place the projects in service.
Cottonwood Solar consists of three sites, two of which are ground-mount facilities located on private land in the central California counties of Kern and Kings totaling 31.6MW / 23MWac of capacity. The third site is a 1MW / 1MWac carport structure to be built in Marin County. The project has secured a 25-year Power Purchase Agreement (PPA). Catalina Solar 2, located on 270 acres in the Mojave Desert of Kern County, is designed as a 24.3MW / 18MWac solar photovoltaic horizontal single axis tracker project and has secured a 20-year PPA. Construction on both projects is anticipated to commence in Q4 2014 with commercial operation expected in Q2 of 2015.
"We are glad to extend our relationship with Dominion having first worked together on the sale of CID Solar in May 2014. With this sale agreement in place, we have sold a total of 84MW of EDF RE developed solar projects to Dominion," said Raphael Declercq, EDF Renewable Energy's Director of Divestiture and Portfolio Management. "Cottonwood and Catalina Solar 2 offered an ideal opportunity to do 'repeat business' with a leading energy player like Dominion, whose willingness to grow in solar matches our ambition to develop more solar PV projects in the Southwest United States."