First Solar, Inc. today announced financial results for the third quarter of 2014. Net sales were $889 million in the quarter, an increase of $345 million from the second quarter of 2014. The sequential increase in net sales resulted primarily from increased revenue recognition on the Desert Sunlight project.
The Company reported a third quarter GAAP earnings per fully diluted share of $0.87, compared to earnings of $0.04 in the prior quarter. The increase in net income compared to the prior quarter was due to higher profit from the Desert Sunlight project and other systems projects under construction, partially offset by an increase in operating expenses. The sequential increase in net income was also due to a one-time income tax benefit in the third quarter of $0.26 per fully diluted share.
Cash and marketable securities at the end of the third quarter were approximately $1.1 billion, a decrease of approximately $234 million compared to the prior quarter. Cash flows used in operations were $47 million in the third quarter. The reduction in cash and marketable securities during the quarter was due to the construction of multiple utility scale power plants which have not yet been sold. The Company continues to construct these projects while determining the optimal sales strategy for these projects.
The Company maintained its full year 2014 earnings per share guidance of $2.40 to $2.80 and operating cash flow guidance of $300 to $500 million. Other financial guidance items have been updated as shown in the table below.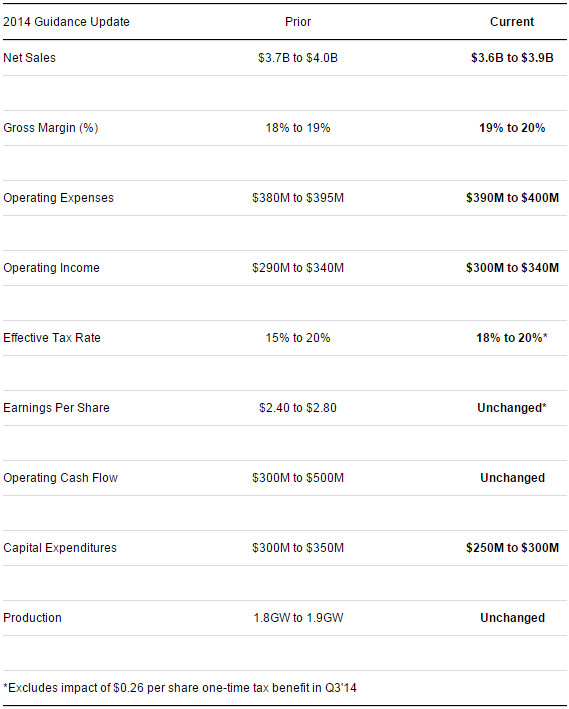 "Following the project delays experienced in the prior quarter, our third quarter earnings have improved, and we continue to make progress towards our financial targets for the year," said Jim Hughes, CEO of First Solar. "Our year to date book-to-bill ratio is well above our objective of a one-to-one ratio, and we are on track to meet or exceed our bookings goal for the year."