The mounting system design provides a strong and sturdy support for solar moudles,it can be fixes angle or adjustable such as 10~15 degree,15~30degree and 30~60 degree for your requirement using our innovative rail and pre-assembled components like tile-in bracket,clamps and pre-assembled tilt leg.
This adjustable tilt solar mounting makes the installation easy and quick to save your labor cost and time.
Technical Information
Install site:Low profile roof or flat roof
Tilt Angle:10~60degrees
Building Height:20m
Standard:AS/NZS 1170 and other internation standard
Material:High class aluminum alloy AL6005-T5&Stainless Steel 304
Anticorrosive:Anodized aluminum&stainless steel
Color:Natural and customized
Warranty:Ten years' warranty and twenty-five years' service life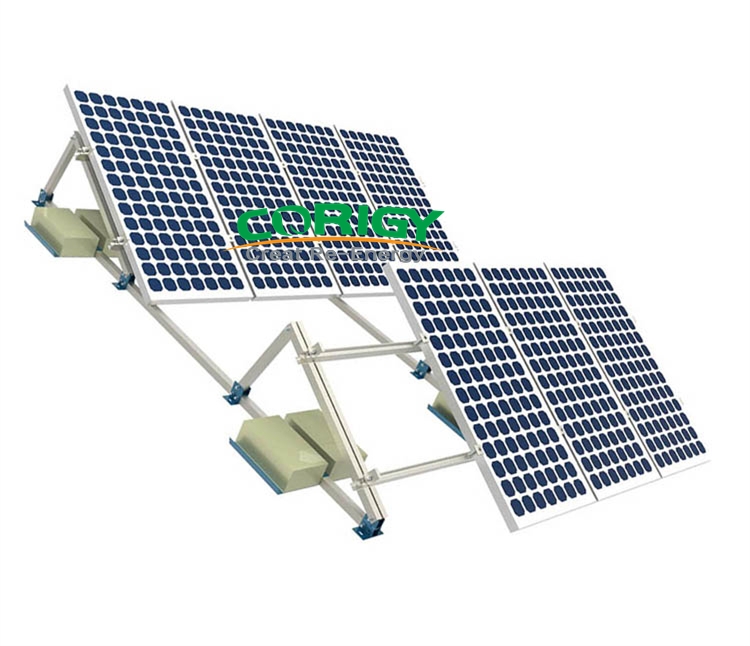 Benefits:
1. Fast Installation
The tile-in T module can be put into the extruded rail from the any location and can be highly pre-assembled with the clamp and tilt leg to ensure a fast and easy installation process.
2. Flexible Application
With adjustable tilt angles from 10~60degree this mounting system can easily tilt a ideal certain angle with roof,it provides excellent adaptability not only to a wide range of flat roof PV mounting projects but also some sloped roof solar mounting projects.
3. Economical
The mounting structure is a cost effective mounting solution.The quantity of components can be required and sold according to project specific calculations.The various components can be kept in stock to shorten time between planing and installation.
4. Long Lifespan
All mounting structural components are made of high class stainless steel and anodized aluminum alloy,high resistance to corrosion and designed for twenty-five year service life and ten years' warranty.
EXTENSION SOLUTIONS:
Pitched Roof Solar Mounting Flat Roof Solar Mounitng Ground Mounting Systems Solar components


Tile Roof Mounting East/West Ballasted Mounting CP-GM3 Ground Mounting Solar components
Metal Roof Mounting Adjustable Portrait Mounting CP-GM4 steel Ground Mounting Ground Screws
Shingle Roof Mounting Portrait Ballasted Mounting CP-GM5 Pile-driven Ground Mounting Solar Fencing
Adjustable Tilt Mounting Landscape Ballasted Mounting