PRODUCT DESCRIPTION
The 12V 24V series deep cycle lithium-ion battery has long life cycle >2000 cycles @1C 100%DOD.
Different
capacity can be chosed according to your requirement.
With stable chemical properties, the UFO lithium-ion battery has a good performance whether in low or hige
temperature and can be stored between -20℃ and 60 ℃.
LCD Display and bluetooth App is optional for battery monitoring. Battery status can be easily checked.
UFO lithium-ion battery is an ideal replacement of traditional lead-acid, AGM, gel batteries for its high
performance and increased efficiency. It is a versatile battery which can be used in various fields, including
solarpower storage, camping cars, RV motorhome, golf carts, boat marine yachts, electric skateboard, LED
backup, security alarm, mobile POS and mining light, medical equipment and much more.


PRODUCT FEATURES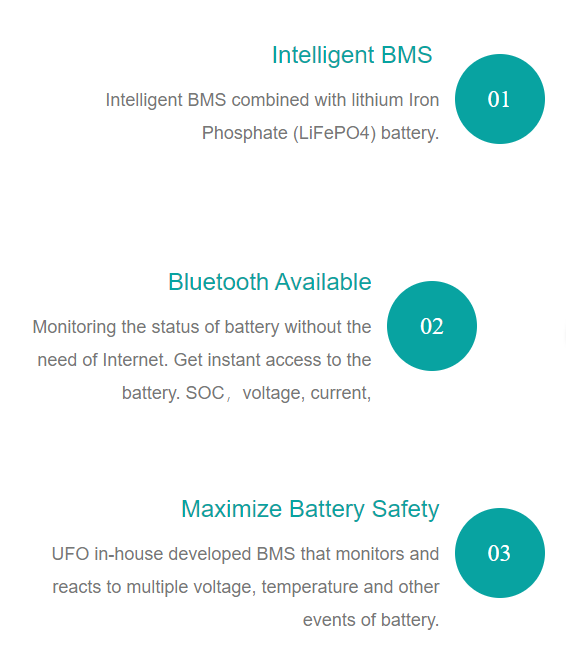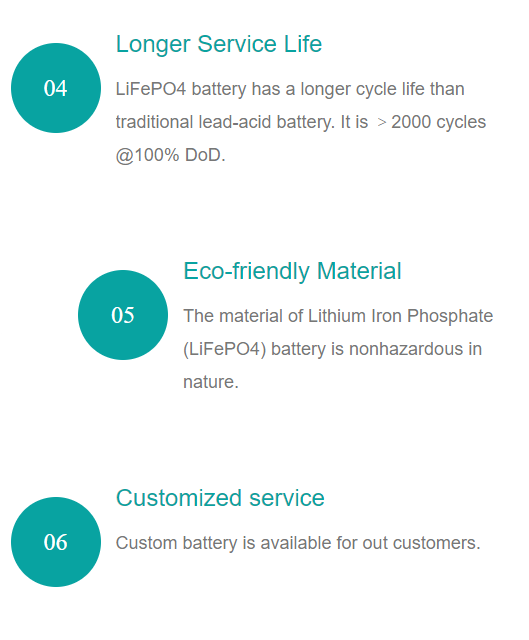 INTELLIGENT BMS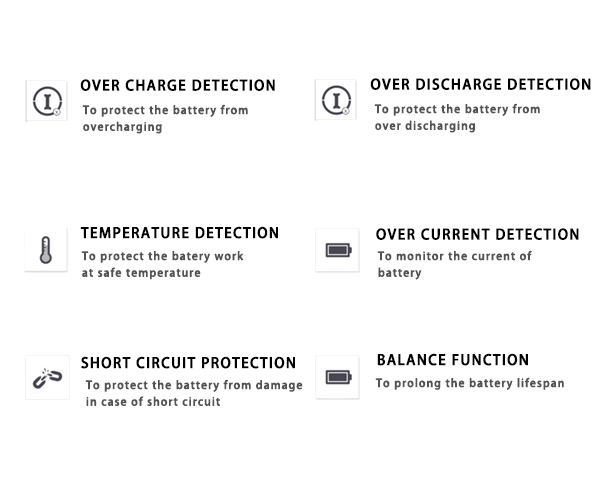 UFO POWER Lithium-ion Battery


Our Company and Factory


Why Choose UFO Lithium-ion Battery?
01 High Quality Battery Cell Provides Long Operating Life
UFO BATTERY focuses on outstanding lithium battery and provides different capacity option of lithium-ion battery. Battery can be customized according to customer's requirements. Also, UFO Lithium-ion battery are recycling battery with long service life.
02 UFO Independently developed BMS Provides Quality Assurance
UFO BATTERY has our own R&D team for BMS, providing more effective battery protection to improve the stability of battery and prolong battery lifespan.
03 UFO LiFePO4 battery for Telecommunication with GPRS Data Transmission Units(DTU)
UFO LiFePO4 storage batteries (Powerwall, telecom battery) are equipped with GPRS Data Transmission Units(DTU), which provides remote control of LiFePO4 battery and help monitor the status of LiFePO4 battery. The GPS Function within the LiFePO4 battery can provides positional tracking of battery to prevent from stealing. Whenever you use the battery APP on your cellphone, you are able to track the location of your LiFePO4 battery. Also, the GPRS function offers convenience to you to monitor the performance of LiFePO4 battery, such as battery temperature, voltage and more.
04 Compact size, light weight, ideal replacement of lead-acid battery
The characteristic of high energy density of UFO lithium-ion battery makes space saving possible. Compared to lead acid battery, the weight of lithium-ion battery is 1/3 of that of lead-acid battery.
05 High/Low Temperature Resistance Provides Superior Performance
UFO BATTERY aims at manufacturing outstanding-quality lithium-ion battery which owns a good temperature resistance. The working temperature can range from -20°C to 60°C and it is an ideal replacement of traditional lead-acid battery.


Certification