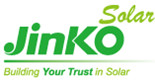 September 10, 2014 - JinkoSolar Holding Co., Ltd. today announced that its 100MW solar PV power plant in Xiangshui, Jiangsu Province was connected to the grid. The company has so far successfully connected to the grid for more than 300MW of solar PV power projects.
Without farm land occupation, the project was built on the top of a 2 million square meter fish pond which is located in the coastal economic development zone in Xiangshui, Yancheng City, Jiangsu Province. The power plant has been granted a 20-year subsidy of 1.0 RMB/KWh.
"The Xiangshui project is a landmark ground-mounted solar PV project in Eastern China with its efficient use of land and combination of fish farming and solar power generation, which is in-line with the National Energy Administration's new policy." commented Mr. Xiande Li, Chairman of JinkoSolar. "The project began construction in April and was connected to the grid in September. I am proud that our highly efficient team work, demonstrating our outstanding technical capabilities, construction efficiency, and strong coordination skills. The government continues to promote favorable policies and subsidies which we believe will create numerous new opportunities during the second half of 2014. Our strong financial position, rich project development experience and high-quality pipeline will ensure that we achieve our full year project development target as we work to increase shareholder value."