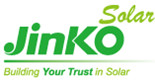 JinkoSolar Holding Co., Ltd. today announced that it plans to build a solar cell and module manufacturing facility in Penang, Malaysia.
Located in Penang, Malaysia, the manufacturing facility will utilize the latest multi-crystalline technology, and once completed, will provide JinkoSolar with additional production capacity of 500MW for solar PV cells and 450MW for modules. The Company has signed a tenancy agreement with Nationgate Technology (M) Sdn. Bhd. for the workshops in which the production line is going to be built. JinkoSolar will invest approximately US$100 million to build the plant including equipment and working capital which is expected to begin operations in May 2015.
"We are excited to be among the first Chinese solar manufacturers to invest in Malaysia. The Malaysian plant will be our first overseas cell production facility and its module capacity will add to our overseas module capacity, currently located in South Africa and Portugal. By expanding our production capacity geographically, we are further diversifying our global manufacturing layout and enhancing our competitiveness in overseas markets." commented Mr. Kangping Chen, JinkoSolar's Chief Executive Officer. "Malaysia continues to support the growth of the renewable energy industry by leveraging its competitive cost environment, relatively advanced industrial capabilities, talent pool of well educated engineers, and preferential tax policies. Our project is strongly supported by MIDA (Malaysian Industrial Development Authority) and the local government. We are looking forward to working closely with them to create local jobs and help further promote the development of solar industry in Malaysia."