Gen-Mobile 5K is the mobile
It is an all-in-one outdoor lithium battery with pulleys. Very convenient to use outdoors. The lithium battery uses 220V/240V output voltage, which is very suitable for outdoor camping, industrial electricity, welding, mobile phone charging, and outdoor electricity use for household appliances.
Outdoor portable portable lithium battery can store solar energy into the lithium battery, lithium battery aa is a green energy, can be used repeatedly, long-lived, deep lithium battery recycling and li-ion battery for solar enengy .
Gen-5K Mobile is lifep04 , agreed as the safe lithium battery now.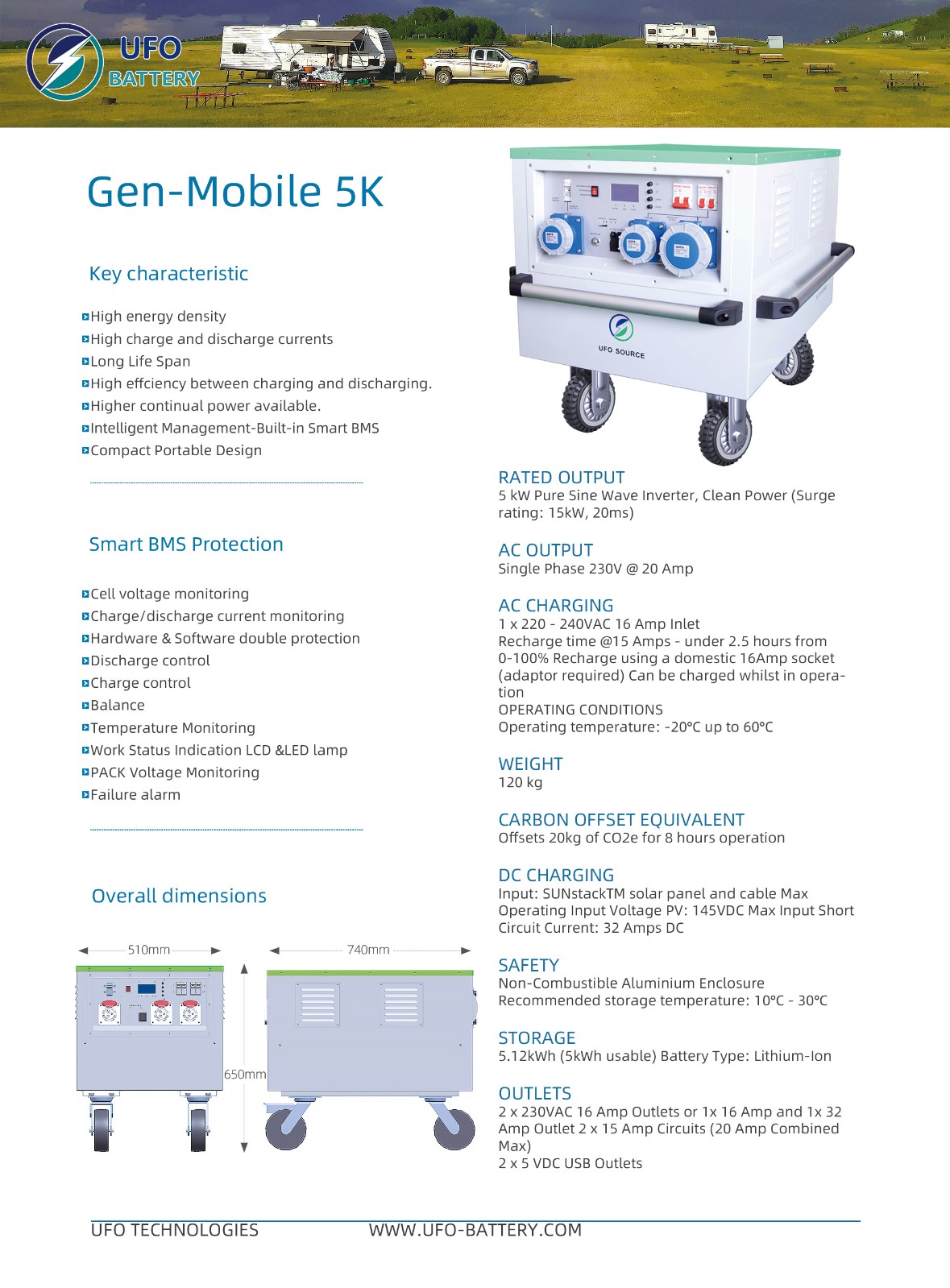 Gen-Mobile 5K Portable Li-ION Battery Power Systems
Li-Ion Battery Size

L 740mm W 510mm H 650mm
Normal Voltage (V)

Lithium battery nominal Voltage
Discharge and Voltage (V)

lithium cell discharge and voltage
Max discharge Current (A)

Lithium Battery Max discharge Current
Model

Gen-Mobile 5K
MOQ

1
Payment

TT
Delivery time

15~35 DAYS
Port of shipment

YANTIAN
Certification

IEC62619, UN38.3
Nominal Capacity (Ah)

Home use Lithium Battery Capacity
Dimensions(mm)

Lithium Battery Dimensions (mm)
Weight (Kgs)

LiFePO4 LIthium Battery Weight
Resistance (m Ω)

Lithium Battery Resistance
Cycle Life (DOD 80%)

Li-Ion Battery Cycle Life
Charging Voltage (V)

LiFePO4 Cell Charging Voltage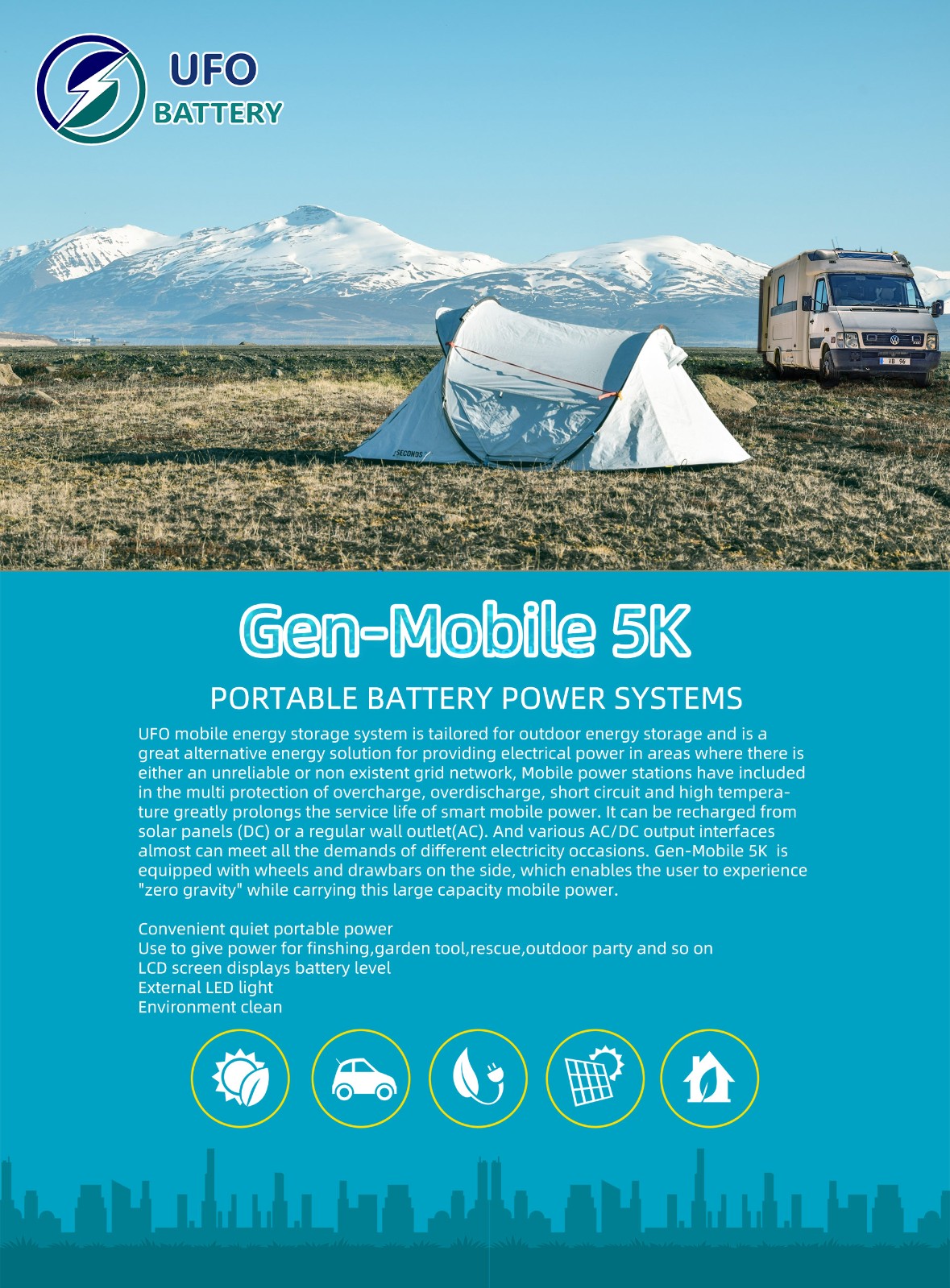 Key characteristicm High energy densitye
High charge and discharge currents
Long Life Spane
High effciency between charging and discharging
Higher continual power available .t
Smart Management -Built-in BMS
Compact Portable Design
Smart BMS Protection
Cell voltage monitoring
Charge/discharge current monitoring
Hardware&Software double protection
Discharge control
Charge control Balance
Temperature Monitoring
Work Status Indication LCD&LED lamp
PACK Voltage Monitoring and Failure alarm
RATED OUTPUT 5kW
Pure SineWave Inverter, Clean Power (Surgerating:15kW, 20ms
AC OUTPUT Single Phase 230V@20AmpAC
CHARGING1x 220-240VAC 16AmpInlet
Rechargetime@15Amps-under2.5hours from 0-100% Recharge
using a domestic 16Amp socket(adaptorrequired
1)Canbe charged whilst in opera-tionOPERATING CONDITIONS
2)Operating temperature:-20°Cup to 60°CWEIGHT120kgCARBON OFFSET EQUIVALENTOffset s20kg
for 8 hours operationDC CHARGING
Input:SUN stack TM solar panel and cable
Max Operating Input Voltage PV:145VDCMax Input Short Circuit Current:32AmpsDC SAFETYNon-Combustible Aluminium
UFO POWER provides one stop solutions to various field and professionaly tech supoprt since 2010, using fully automatic intelligent production equipment combined with automation control technology and lithium-ion battery.
Contact us Now to Get A Battery Solution!
E-mail : Sales@ufo-battery.com
www.ufo-battery.com